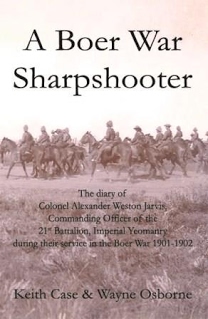 A Boer War Sharpshooter. The diary of Colonel Alexander Weston Jarvis, Commanding Officer of the 21st Battalion, Imperial Yeomanry during their service in the Boer War 1901-1902
Colonel Weston Jarvis, C.M.G, M.V.O, T.D. Commanding Officer of the 21st Battalion the Imperial Yeomanry. Adventurer, politician, soldier, socialite and later a Knight of the Realm. A man from another century. The Boer War was fought between irregular troops of a small nation and the professional army of a mighty Empire. Though the Empire won the war the Boers proved to be worthy and skilful opponents. Equally at home in the saddle and in high society, Alexander Weston Jarvis kept a diary that captured the mood and atmosphere of the time. He takes the reader bivouacking under the African stars, riding long miles on patrol, skirmishing with a wily and elusive enemy; he shows the building of the blockhouse lines. He visits a concentration camp and then in stark contrast tells of the luxury of dinner parties, nights in the mess and visits to the theatre with the famous., great and notorious. He sampled the civilised delights of Pretoria, Johannesburg and Durban. Milner, Cecil Rhodes, Baden-Powell, Rawlinson, Haig, Plumer, many military and aristocratic luminaries numbered among his friends ,but none were more influential than the King and Royal Family. Alexander Weston Jarvisí diary is a valuable and evocative record of the British Empire at its height of power and a forgotten war.

Keith Case and Wayne Osborne, Salient Books. Published 2010. ISBN 978-0-9564439-1-5.